Amor meus crucifixus est

– My Love is the Crucified One –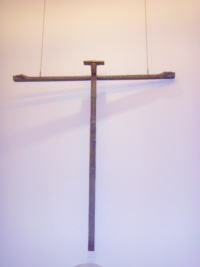 was a saying of St. Bridget. The five red spots on the veils of our habits remind us of the Wounds of our Lord Crucified. The love for HIM, our Lord and Saviour, directs our activities which are centred around liturgy and prayer.
Visitors and guests are most welcome to participate in the celebration of the Eucharist and the Liturgy of the Hours. The church St. John the Baptist – a gothic brick building from the 14th century – and the "Atrium", a city pastoral facility, aiming to provide information and help for those looking for it, are situated directly adjacent to the convent. A Christian book and art shop is also nearby.